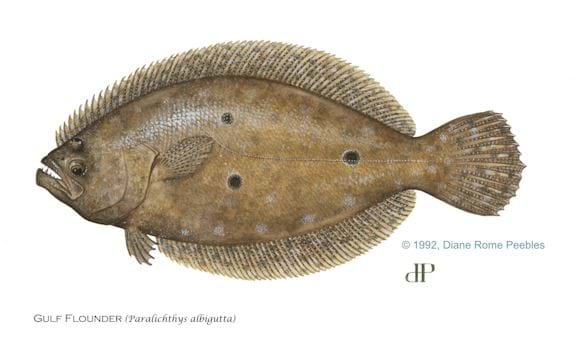 Flounder
Regulations Gulf and Atlantic State Waters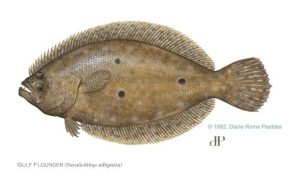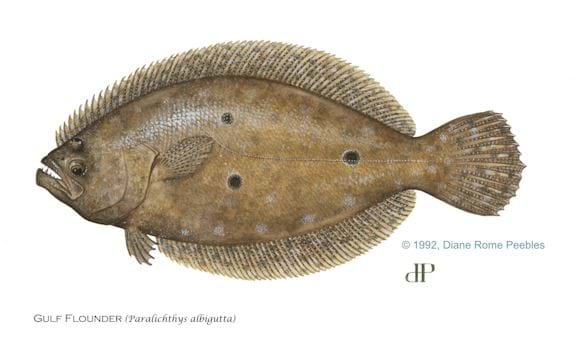 Minimum Size Limit: 14″ total length
Daily Bag Limit: 5 per person
Seasonal Closure: Closed annually from Oct. 15 through Nov. 30.
Gear Requirements:
Legal Gear: spears, gigs, hook and line, seine, cast net
Illegal Gear: harvest prohibited by or with the use of any multiple hook in conjunction with live or dead natural bait; snatching prohibited
Flounder regulations are for state and federal waters off Florida.
*Note – Regulations on this page apply to Gulf flounder, Southern flounder, summer flounder and fringed flounder.
Catching Gulf flounder in Florida requires some specific techniques and knowledge of their habitat and behavior. Here are the steps to help you catch Gulf flounder:
1. Know the habitat: Gulf flounder are flatfish that inhabit sandy and muddy seabeds in shallow estuaries, bays, and nearshore areas. Look for areas with sandy bottoms, with seagrass beds or structures nearby, as these are prime locations for flounder.
2. Equipment and bait: Use a medium to light-action spinning rod and reel combo, preferably with a 7 to 8-foot rod for longer casts. Spool your reel with a 10 to 12-pound monofilament or fluorocarbon fishing line. For bait, use live or dead shrimp, small finger mullet, mud minnows, or small fish-shaped soft plastic lures in natural colors.
3. Fishing technique: Start by casting your bait or lure towards the sandy or muddy bottoms, close to structures like rocks, docks, or pilings, where flounder like to hide and ambush prey. Allow your bait or lure to sink to the bottom, and then slowly retrieve it, keeping contact with the bottom.
4. Be patient and observant: Flounder are master camouflagers, and they often bury themselves in the sand while waiting for prey. Watch for signs of movement or any slight depressions where the fish might be hiding. Flounder tend to bite softly, so be ready to detect subtle bites and set the hook quickly.
5. Use the right hook and rig: To ensure a good hookup rate, use a small size 1/0 or 2/0 circle hook, which will increase your chances of hooking the flounder in the corner of the mouth. Tie your hook to a short leader of about 12 to 18 inches, using a Carolina rig or a fish-finder rig with a sliding sinker.
6. Time your fishing: Gulf flounder are more active during incoming and outgoing tides, especially during the first few hours of each tide change. Plan your fishing excursion accordingly, and keep in mind that flounder tend to be more active during the cooler months, from late fall through early spring.
7. Follow regulations: Make sure to check the Florida Fish and Wildlife Conservation Commission's regulations and bag limits for Gulf flounder before you go fishing. Adhere to the size and possession limits, as well as any seasonal closures in specific areas.
Remember to always practice responsible catch-and-release when necessary, and have the required fishing license for fishing in Florida.
Special regulations apply for this species when fishing in Biscayne National Park.
---
Image Credit:Diane Rome Peebles