Top 5 Inshore Saltwater Live Bait for Florida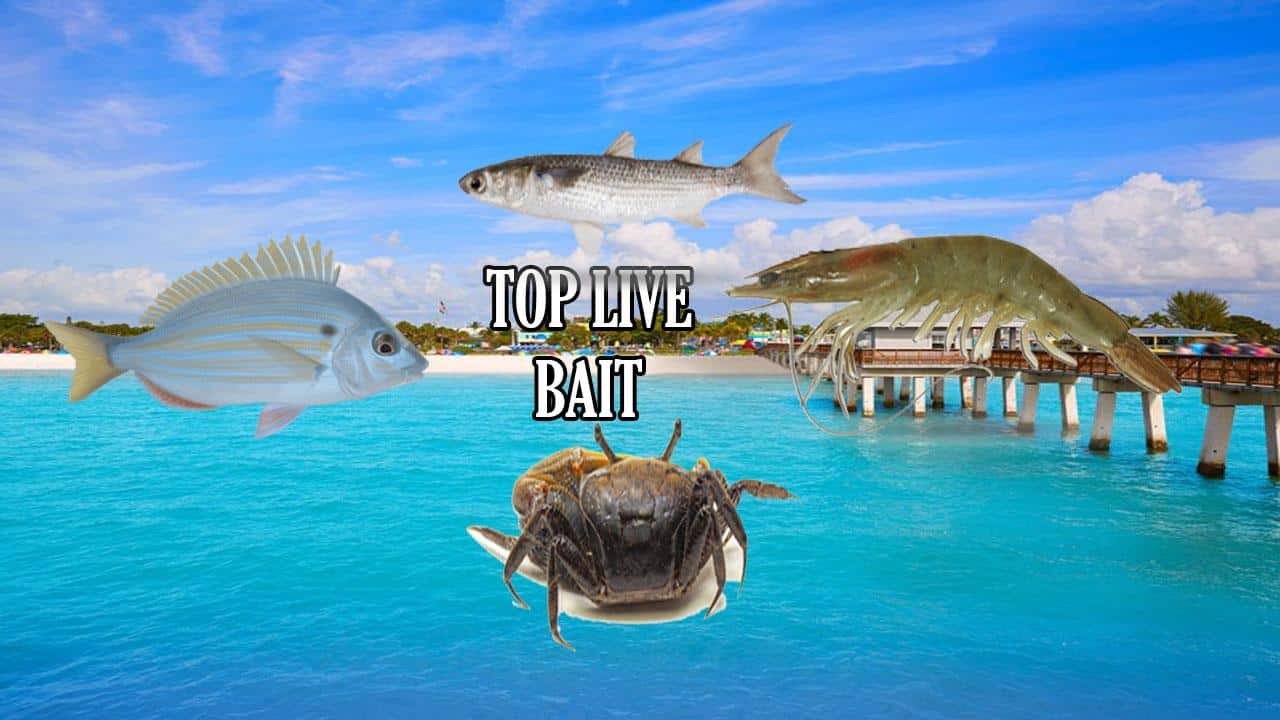 Top 5 Inshore Saltwater Live Bait for Florida
When it comes to picking live bait to use when saltwater fishing from Florida shorelines or a pier. The Top Live Bait that Fishing Florida Water suggests can be found below.
1. Live Shrimp
So many fish love Live Shrimp. You can free line them you can use a popping cork and/or fish the bottom with them using a sinker.
The type of fish you can catch with Live Shrimp depends on how you fish with them. Some examples of those are Snook, Redfish, Spotted Seatrout, Ladyfish, Mangrove Snappers, Pompano, Whiting, Catfish, Small sharks and Toadfish etc.
2. Green Backs, Threadfin Herring, Finger mullet
These you will likely have to catch in a cast net. It will be the fastest way to catch them. There is a chum you "could" buy to attract them if they're around. It's a fish food like chum you can buy. (I'll talk about that in later down the road in a video). These types of live bait are best used without a sinker and freelined with a moving tide. I use live bait like these by docks and boats where Snook and Tarpon will likely be hanging around. Other top water fish will hit them too. Don't worry! Videos will be coming out showing you how to free line a live bait. Take in mind Finger mullet are not the same fish as Green back or the Threadfin herrings.
3. Crabs
Fiddler crabs and passing crabs are two crabs that you can legally use for bait in Florida.
Fish you can catch with these two crabs are Sheepshead, Redfish, Snook, Black Drum and Tarpon. They are best fished two ways depending on the fish your targeting. Sheepshead will hang around any type of structure that has barnacles on it. A cement wall, culvert, bridge piling and docks are some examples of these places. Snook, Redfish and Tarpon prefer the crab to be on a freeline The trick is to fish the crab going with the tide; don't fish against the current. Free line is using no sinker with a line to line knot allowing the bait to freely move with the water flow.
You could use blue crabs if you want. Generally, I will use the two crabs mentioned above because they are good bait. You will need to keep them alive. Keep in mind it is best to take their two big claws off; otherwise they will kill each other in a bucket. Black Drum love parts of a blue crab like the back part of a blue crab, even the knuckles. You'll find a video here on Fishing Florida Water talking about the parts of the blue crab to use and how to use it. Tarpon and Snook like Blue Crabs but they don't like them if they have their claws. Take note that it is illegal to use a Stone crab as bait.
4. Pinfish, Pinfish
Pinfish are easy to catch in the daytime around fishing piers, beaches about 5-10 feet from shore also on the flats, all with using what is known as a Sibiki Rig. In some places I've had no luck catching Pinfish at night, You could always buy a small pinfish trap which you put frozen bait in a chum bag and much like a crab trap works these fish will find a away in to get to the bait and get stuck. Problem is that it could take a bit of time to get them using a pinfish trap compared to a Sibiki Rig I guess it depends on the location and a bunch of other factors. Many Anglers that use Pinfish have caught Seatrout, Snook, Redfish, Tarpon, Different small Grouper, Small Sharks, these pinfish are best fished in 2 ways live using no sinkers and no shiny things on your like like a swivel, You want the bait to look natural, The other way is cut, that means remove the head cut from the gills and just the half the body typically I'd use a #2 circle hook and hook the cut pinfish near the back of the tail.